Ro Milan
The landscape in all of its aspects, elements and forms (the sea, the mountains, the plains, the sky, leaves, flowers, fruits, shells, fishes etc.) represents the formal and spiritual search in Ro Milan's paintings.
The artist's attention is not focussed on specific places for nature is simply a model, an opportunity to paint shapes and colours. His is an inner approach, striving to seize the rhythm of shapes, the spirit of things and the atmosphere wafting in the air.
The mountains, the plains, the sea, the regions and the seasons, as well as the objects that are dear to him (usually represented individually) are often constructed within a timeless space, without any academic rules and without any happenings, sometimes in a metaphysical perspective. The results of his horizontal and transversal lines, his special cuts and superimposed planes at times border on abstractionism.
The graphy of contours stops the image in a still light and the spreading are often broad and calm. His palette (favourite colours) is warm and personal.
These transfigured and reinvented landscapes and his personal interpretation of nature reveal a disguised sense of solitude, a serene and quiet detachment, arousing well-perceptible emotions and that mysterious spiritual feeling that we call art.
Curriculum
Roberto Milan was born in Tortona in 1937 and has lived in Chiasso since 1946.
He began painting and writing as a very young man, contributing poems and stories to newspapers and magazines. In 1963 he published his first collection of poems "Il canto delle rane"; in 1965 the Corriere del Ticino puplished in 60 instalments his first short novel "La valle dei Templi"; in 1976 appeared the small collection of poems and drawings "Uomo Antiuomo" (with an introduction by Bixio Candolfi), and in 1977 the collections of stories "Il carnevale di Mario". In 1976 the magazine Cenobio of Lugano publishes his essay "Arte e società". He has been painting assiduously since 1970, participating in numerous exhibitions in Switzerland and abroad. Some of his works are at the Cantonal Library and in public and private collections. He also devoted his time to art criticism, reviewing exhibitions for newspapers and magazines.
Altopiano con albero, olio, 30x40, 2004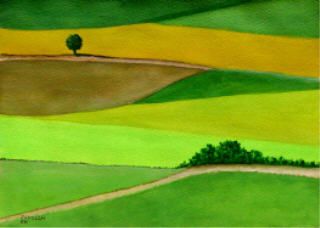 Paesaggio, tempera, 21x29.5, 2004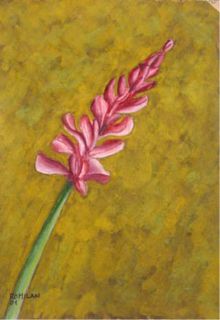 Fiore, tempera, 21x15, 2001