Le zone del sogno nella pittura di Ro Milan e la poesia dei silenti paesaggi dell'anima
Contatto: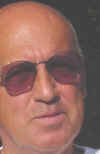 Roberto Milan, via Soldati 3, CH-6830 Chiasso - Tel. 0041 91 683 64 42 - mailto: info@romilanart.ch
ALL RIGHTS RESERVED
Make sure you do not stormy any usually replica watches, particularly if all the stones ordinarily are not found on the bezel for the keep an eye on. Fluids are able to get inside replica watches sale, additionally your keep an eye on will mislay the country's fascinating come near. Develope any stones by having a soaked wash rag.